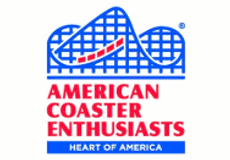 Policies & Guidelines
Members are expected to follow an established set of policies and guidelines to ensure the organization is represented in a positive manner. These documents can be accessed through the following links to ACE's national web site.
ACE's National Web Site
For additional information about the organization, to access your membership information online, learn about national events or events in other regions, purchase ACE merchandise or, to become a member, visit www.ACEonline.org.

American Coaster Enthusiasts (ACE) is the world's largest club of amusement ride enthusiasts with over 8,000 members representing all 50 states, DC and 12 countries worldwide. Founded in 1978 as a not-for-profit, all volunteer organization to foster and promote the conservation, appreciation, knowledge and enjoyment of roller coasters, ACE has grown to become the premiere organization for coaster enthusiasts around the world.

For more information about ACE, including a list of FAQs, click here.


About the Heart of America Region
Situated at the geographic center of the United States, the Heart of America Region includes members residing in Arkansas, Kansas, Missouri and portions of Illinois (south of I-80). As of January 1, 2009, there were 165 members in the region and counting.

Members in the Heart of America region receive several regional newsletters each year, access to regional coaster riding events with Exclusive Ride Time (ERT) and more.


ACE's Mission Statement
The mission of the American Coaster Enthusiasts is to foster and promote the conservation, appreciation, knowledge, and enjoyment of the classic wooden roller coaster and the contemporary steel roller coaster; to create fellowship among its members and to promote the continued operation of roller coasters.


Come Along for the Ride!
Ready to join the most fun organization in the world? Learn more about becoming an American Coaster Enthusiast, or ACEr for short, by downloading the ACE brochure or by visiting ACE's national web site at www.ACEonline.org. There you can download or request a membership application or join online by using your credit or debit card.