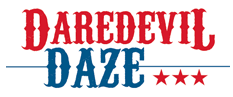 October 7, 2017
Six Flags St. Louis - Eureka, MO

Join us at Six Flags St. Louis this October as we celebrate Daredevil Daze's 10th anniversary in 2017 with an exciting lineup of thrills and (for the first time) Halloween chills! The day begins with two full hours of ERT on FOUR of the park's roller coasters! Attendees will also be treated to a catered lunch, VIP show seating and and other surprises.





Events are a significant part of what ACE is all about. They are a great way to meet fellow enthusiats and allow members to do what they do best...ride coasters.

Each year, the organization sponsors 3-4 national events at parks across the country including an annual Coaster Con each June. In addition, many of the organization's regions sponsor their own local events each year. The Heart of America Region is no exception. Each year, the region tries to sponsor one or two events at parks within the four-state area, making it convienent and easy for those who aren't able to attend the national events. Regional events aren't just limited to local members though. Members from as far away as Massachusetts and California have been known to frequent Heart of America events.

Most ACE events feature Exclusive Ride Time (ERT) on a park's most popular coasters outside of regular park operating hours, catered meals and special presentations. Oftentimes, raffles, giveaways, contests and behind-the-scenes tours are also included with registration.


Upcoming Events
A list of upcoming events are listed to the left. For a complete listing of other events, including national events and those held in other regions, visit ACE's events page.


Event Registration
Registering for events is easy. The Heart of America region was the first to offer online registration for its regional events and is happy to still have it as a secure conveneince to members. Online registration is also available for national events. Of course, if you prefer to pay registration fees by check via mail, that option is available as well.