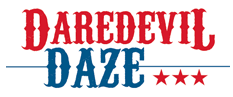 Saturday, October 7, 2017
Six Flags St. Louis - Eureka, MO

Advance Registration:
With a valid Six Flags season pass:
ACE Members: $14.00
Non-Members: $20.00

Without a valid Six Flags season pass:
ACE Members: $40.00
Non-Members: $45.00

Non-members may only register to attend as the guest of a member that is also registered. Members are responsible for the actions and behavior of their guests.

Advance registrations by mail must be postmarked by September 23, 2017. Online registration will be available until midnight, September 30, 2017.

Late Registration:
Late registration is not available for this event and no day of event walk-up registrations will be accepted.




To register by mail, download the event flyer. (To view the flyer, you will need the latest version of Adobe Reader.)



Join us at Six Flags St. Louis this October as we celebrate Daredevil Daze's 10th anniversary in 2017 with an exciting lineup of thrills and (for the first time) Halloween chills! The day begins with two full hours of ERT on FOUR of the park's roller coasters! Attendees will also be treated to a catered lunch, VIP show seating and and other surprises.



9:00 a.m. to 10:00 a.m.: Registration at Main Entrance/Guest Relations*
10:00 a.m. to Noon: ERT on American Thunder, Mr. Freeze, Screamin' Eagle & The Boss
12:00 p.m. to 12:00 a.m.: Six Flags St. Louis open to the public
3:30 p.m. to 4:30 p.m.: Catered lunch in World's Fair Grove
Time TBD.: VIP seating for "Love at First Fright" in the Palace Theater

* If you cannot arrive by 10:00 a.m., packets may be picked up at Guest Relations.



Parking
Show your ACE membership card to receive FREE parking!

Driving Directions
Six Flags St. Louis is located approximately 30 miles southwest of downtown St. Louis off of I-44 and Exit 261 in Eureka. Click here for a map of the area.

Other Information
Inclement weather, equipment problems or other unforeseen circumstances may affect the above schedule. The park will do its best to provide ride times and rides as listed. CANCELLATION POLICY: Refunds will not be given for this event. ACE cannot prorate fees for partial attendance of events. ADDITIONAL INFO: E-mail regional representative Paul Drabek for more information or, if you have any questions about the event.