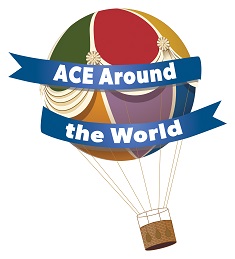 Saturday, May 28, 2022
Worlds of Fun - Kansas City, MO

Advance Registration:
ACE Member Adult: $65.00
Non-Member Adult: $70.00

Member Passholder: $30.00
Non-Member Passholder: $35.00

Advance online registration required. Registration ends at midnight, May 21, 2022.

Non-members may only register to attend as the guest of a member that is also registered. Members are responsible for the actions and behavior of their guests.

Late Registration:
Late registration is not available for this event and no day of event walk-up registrations will be accepted.






Click here to download a printable event flyer. (To view the flyer, you will need the latest version of Adobe Reader.)



ACE Around the World is back! Join the Heart of America region and Worlds of Fun as we welcome ACE members and their guests to the park on Saturday, May 28. As the first of many regional events planned for 2022, this year's ACE Around the World will be held over Memorial Day weekend and is the perfect way to celebrate the unnofficial start of summer in the midwest.

Attendees will experience an unforgettable international expedition that includes backstage tours, a catereed lunch, and nighttime ERT on Mamba! There are sure to be other surprises throughout the day that have yet to be discovered. As an added bonus, Oceans of Fun will be opening for the season during our visit, allowing attendees to take a few trips around the lazy river or cool off with a mid-day visit to the Surf City Wave Pool. Don't miss out on this exciting global adventure!



SATURDAY, MAY 28, 2022
9:00 a.m. to 10:15 a.m.: Check-in at Worlds of Fun entrance
10:30 a.m. to 11:30 a.m.: Behind-the-scenes tour of Mamba
11:00 a.m. to 9:00 p.m.: Worlds of Fun open to the public
11:00 a.m. to 7:00 p.m.: Oceans of Fun open to the public
12:30 p.m.: Catered lunch and Q&A with park staff
9:00 p.m. to 10:00 p.m.: ERT on Mamba



Parking
The standard parking fee of $25.00 per vehicle applies at Worlds of Fun unless included with specific Worlds of Fun or Cedar Fair season passes. Parking can be purchased in advance at www.worldsoffun.com.

Driving Directions
Worlds of Fun is located off of I-435 and Parvin Road in Kansas City, MO, less than 10 miles northeast of downtown Kansas City. Click here for a map of the area.

Cancellation Policy
Refunds will not be given for this event. ACE cannot prorate fees for partial event attendance.

Other Information
Inclement weather, equipment problems or other unforeseen circumstances may affect the above schedule. The park will do its best to provide ride times and rides as listed however, the schedule of events remains tentative and is subject to change based on the park's operational status and local health restrictions at the time of the event. E-mail regional representative Paul Drabek for more information or if you have any questions.