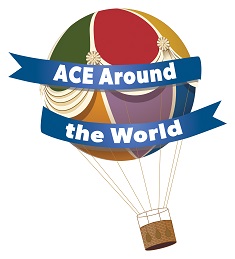 Saturday, August 15, 2020
Worlds of Fun - Kansas City, MO

Advance Registration:
ACE Member Adult: $65.00
Non-Member Adult: $70.00

Member Passholder: $35.00
Non-Member Passholder: $40.00

Advance online registration required. Registration ends at midnight, August 8, 2020.

Non-members may only register to attend as the guest of a member that is also registered. Members are responsible for the actions and behavior of their guests.

Late Registration:
Late registration is not available for this event and no day of event walk-up registrations will be accepted.






Click here to download a printable event flyer. (To view the flyer, you will need the latest version of Adobe Reader.)



Join the Heart of America region and Worlds of Fun as we welcome ACE members and their guests to the first ever ACE Around the World event on August 15. In addition to ERT at both Worlds of Fun and Oceans of Fun, attendees will experience an unforgettable international expedition that includes backstage tours, a catered lunch and Fast Lane Plus wristbands so explorers can skip the lines at all of the park's major attractions. There are sure to be additional surprises throughout the day that have yet to be discovered. Don't miss out on this exciting adventure!



SATURDAY, AUGUST 15, 2020
8:00 a.m.: Parking lot opens for attendees
8:00 a.m. to 9:00 a.m.: Check-in, morning refreshments & Fast Lane Plus distribution
9:00 a.m. to 10:00 a.m.: ERT on Mamba
10:00 a.m. to 10:00 p.m.: Worlds of Fun open to the public
10:00 a.m. to 11:00 a.m.: ERT on Riptide Raceway & Caribbean Cooler at Oceans of Fun
11:00 a.m. to 7:00 p.m.: Oceans of Fun open to the public
12:45 p.m. to 1:45 p.m.: Catered lunch at the Grand Pavilion
2:00 p.m. to 3:00 p.m.: Backstage tour of Timber Wolf
9:00 p.m. to 10:00 p.m.: Reserved seating on Prowler



Update Regarding COVID-19
The greatest concern of ACE is the health, safety and enjoyment of its members. To ensure continued safety, ACE is closely monitoring the ever-evolving situation regarding the ongoing COVID-19 pandemic and is in communication with the host park.

While we know that many of you are hoping that the event occurs as planned, an official 2020 opening date for the park has not yet been announced following mandated state and city shutdowns. Once an opening date is announced, the time that the park will need to prepare to open and be fully staffed for operations will be taken into consideration. The park will do its best to provide the rides and times as listed however, the schedule of events remains tentative and is subject to change based on the park's operational status at the time of the event.

As a courtesy to fellow attendees, we are kindly asking that anyone that has been ill or had a fever in the two weeks leading up to the event not attend. Refunds will be available for attendees that are unable to attend due to illness and must be requested by email before August 12.

Attendees will be required to adhere to all park policies including those regarding use of personal protective equipment and social distancing.

Please watch for ongoing updates regarding event timing and status on our Facebook and Twitter social media channels.

Parking
The standard parking fee of $15.00 per vehicle applies at Worlds of Fun unless included with specific Worlds of Fun or Cedar Fair season passes.

Driving Directions
Worlds of Fun is located off of I-435 and Parvin Road in Kansas City, MO, less than 10 miles northeast of downtown Kansas City. Click here for a map of the area.

Other Information
Inclement weather, equipment problems or other unforeseen circumstances may affect the above schedule. The park will do its best to provide ride times and rides as listed. E-mail regional representative Paul Drabek for more information or, if you have any questions about the event.